Mobile Apps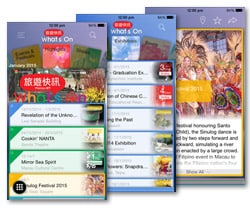 This app introduces Macao's latest tourist attractions and monthly highlights from local events, activities, festivals, performances to exhibitions. Once downloaded, you may check out Macao's splendid events offline through its colorful and handy interfaces.
The content is available in three languages - English, Traditional and Simplified Chinese.
Special features:
Handy design with easy operation.
Information can be viewed offline once downloaded.
Reminder about the start and end of the event.
You may add your favorite events to "My Events" or your Calendar for easier trip planning and participation.
Automatically search for any nearby activities around your location as in line with the GPS function.
---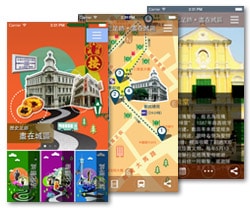 The app is available in Traditional Chinese, Simplified Chinese, English, Portuguese, Japanese and Korean language.
Eight suggested walking tour routes are provided as follow:
Footsteps into the Historic Centre
An Experiment of Creativity
Crossroads of China and Portugal
A Legacy of Arts and Culture
Enchanting Stories of Our Lady of Fatima Parish
The Marriage of East and West in St. Anthony's Parish
Bygone Days of Taipa Village
Nostalgia in Coloane
---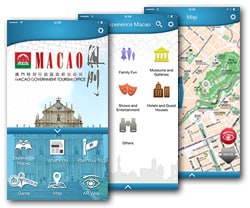 This app provides the most sought after information essential to you. Come to experience for yourself the memorable moments while staying in Macao. Make your trip free and easy by creating your customized trip employing our audio guide and AR function.
Languages in Traditional Chinese, Simplified Chinese and English are available.
Features include:
Information of Tourist Spots, Shows & Entertainment, Accommodation, Restaurants, etc.
360-degree Panorama Photos
Audio Guide
Trip Planner
Offline Map
AR (Augmented Reality) Function
Game